This month we are thrilled to be celebrating Neekar Kurdy. Neekar came to us from Iraq and has been with the Winnebago Area Literacy Council since 2010. She has taken part in our English Classes, 1-1 tutoring, Women & Children's classes AND is now a part of our Road to Work program. When Neekar's family first relocated to Oshkosh she had to walk 45 minutes to the bus to bring her two small children to the library. Every weekend she would make the long trek and spend 5 hours trying to teach herself English while her children played. Then she found the Winnebago Area Literacy Council and everything started to change. She told me that when she first arrived in the United States "it felt like something had been pulled over my eyes and I couldn't see any opportunities. But I learned that if you're are nice, kind, helpful and a hard worker, another door will open for you." That door was opened even wider when one of our most dedicated volunteers – Michelle – began taking Neekar and her children to Women and Children's class. Her son calls it "Michelle School", and told his pre-K teacher that "this school is pretty nice, but not as nice as Michelle School".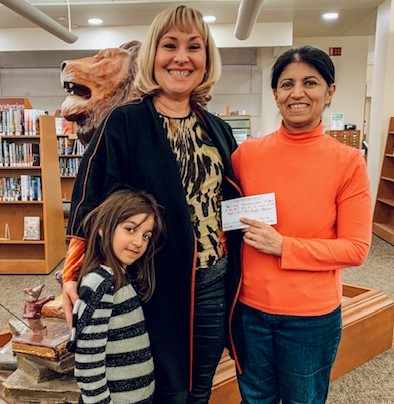 Neekar began studying for her drivers license exam along with learning English, and passed on her first try. She would listen to audiobooks at night in order to study for her Citizenship test without waking her family. After 5 years in the United States she passed that test on the first try as well. Neekar also told me that even though the pandemic was hard for everyone, it opened up opportunities for her. Fox Technical College moved their English Classes online, so now she can take English Classes at night while still working full time. This month Neekar is celebrating her 90 day anniversary in her position at Christian Community Childcare Center which she found through our Road to Work Program. She loves her job – where she works with babies and toddlers. Through this job she is now taking Early Education classes online in addition to her English Classes! She told me she is constantly encouraging her friends to never give up, and to take any opportunities they can for education.
Neekar – your hardwork, dedication and positive attitude are truly an inspiration to all of us. Congratulations on all of your accomplishments over the last 13 years, and on 90 days at your job!